CAREFUL TO EACH DETAIL FROM THE BEAN TO THE CUP
Trucillo every year aims to offer a quality product, creating blends that can please the different expectations and satisfy the consumers' needs. A shared goal the whole Trucillo team aims at with passion and determination, taking care of each and every aspect from the production to the trading, from the bean to the cup,sharing with our partners the pride to offer together all the pleasure held into a cup of espresso coffee. We dedicate the same care and attention to the international market, aware and proud to represent and spread the Made in Italy
Trucillo every year aims to offer a quality product, creating blends that can please the different expectations and satisfy the consumers' needs. A shared goal the whole Trucillo team aims at with passion and determination, taking care of each and every aspect from the production 
to the trading, from the bean to the cup,sharing with our partners the pride to offer together all the pleasure held into a cup of espresso coffee. We dedicate the same care and attention to the international market, aware and proud to represent and spread the Made in Italy
The quality of the blends comes from the care and attention devoted to the raw material: green coffee. The passion for good coffee has brought the company to move tightly close to the producing countries, where research trips and journeys are periodically carried out in order to offer an unmatchable taste to the consumer, made of aromas and cultures hailing from different lands. Trucillo blends are made of coffee originated from three different continents: Central and Southern America, Africa and Asia.
We have elected quality as the first of our company values. A strict Quality Control throughout the supply chain and the observance of the quality standards are fundamental steps, allowing the monitoring of the production cycle through continuous studies and research activities. In the Trucillo Coffee Lab, the coffee that makes up our blends is constantly subjected to strict qualitative analysis per single origin and evaluated on the basis of its organoleptic properties from a panel of qualified coffee tasters in order to guarantee the best result in the cup.
THE ESPRESSO CUP IS AN AUTHENTIC SYMBOL OF THE ITALIAN SPIRIT
Trucillo blends quality results from the choice of selecting the best green coffee, processed with knowledge and care. The best blends are made up of six or seven different origins: the 100% Arabica stands out for its floral and fruity fragrances, sweet and delicate; the Arabica and Robusta blends present an enveloping, creamy pleasure on the palate, with aromatic notes of chocolate, hazelnut and vanilla. Today's success especially comes from the deep studies and great experience developed in the roasting activity.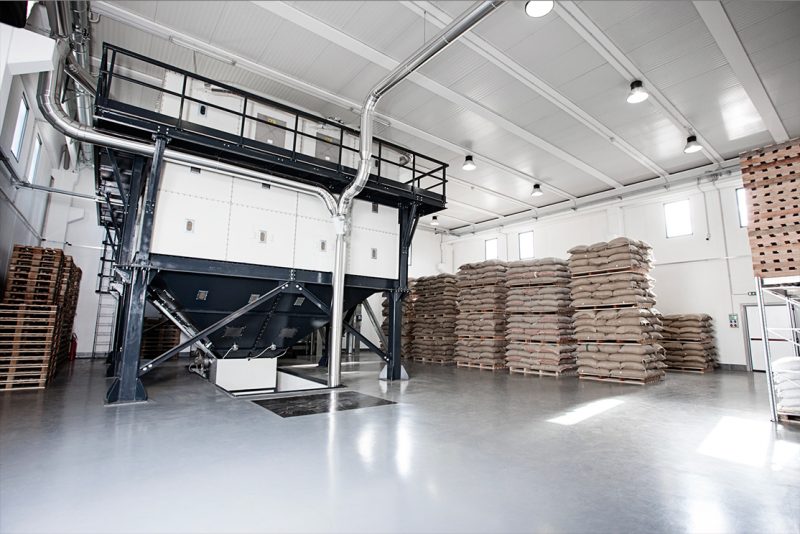 The roasting art follows the tradition of the first years of experience, seamlessly merged with a constant, relentless technological research. This step represents one of the most delicate moments in the coffee processing cycle: the bean turns crumbly, changes color, increases in volume and decreases in weight, gaining aromatic richness and differentiating its taste depending on the cooking temperature. Coffee gets roasted for 15-17 minutes through the convection method for a uniform roasting, respectful of the coffee characteristics.